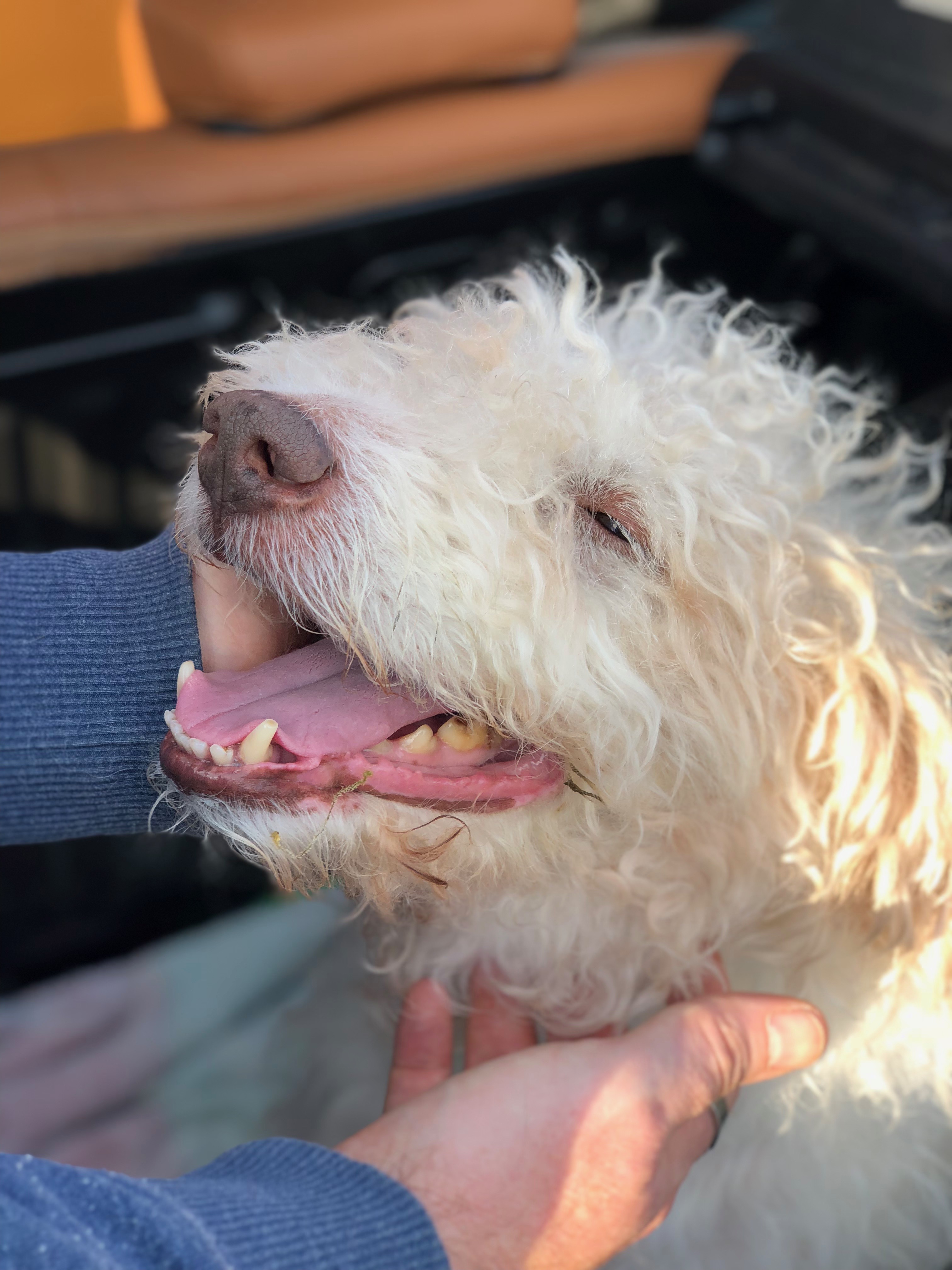 We've had a wonderful month with Bigos. He was so happy and healthy, being able to sleep and enjoy life. Full four weeks. The nightmare started yesterday. He stopped weeing and although everything supposed to be OK, wasn't. We took him to Runcorn Hospital, they told us they are very hopeful, he peed, he is gonna be fine, but then a few hours after another phone call – things are getting worse but could improve, we need to wait. If there is another phone call in the evening, it means that we need to go to say our last goodbyes. I hope noone calls.
Before we took him to the hospital, we'd taken a few selfies. Last ones, I knew it. Look at my eyes, they are so small, I couldn't cry no more, I was so down. Somehow I feel he's not gonna make it. I just know it.
I thank life for Bigos. This dog taught me so much. He was so calm, so soft, he brought me so much comfort. I loved him from the very first moment I took him in my arms. He had a lovely life, I just can't stand how it is ending. I don't want him to suffer and they have our permission not to wait for us but end his life if he shows any signs of suffering. At the moment he is sedated and sleeps.
I'm waiting for the good news to come in the morning.
---
Spędziliśmy razem cudowny miesiąc – Bigos chyba nigdy nie był tak szczęśliwy i zdrowy. Sypiał całą noc, bawił się, czuwał w ogrodzie i po prostu cieszył się życiem. Niezapomniane (prawie) cztery tygodnie…Do wczoraj. Sytuacja powtarza się na nowo – pełny pęcherz, zatrzymanie moczu, szpital i dzisiejsza, decydująca noc. Chirurg powiedział nam, że wykluczono kamienie, nie ma infekcji, pies powinien siusiać jak szczeniak…Powinien. Dwie godziny po cewnikowaniu Bigos poczuł się gorzej i lekarz zadzwonił do nas aby poinformować, że ta noc będzie decydująca. Jeśli stan psiaka się nie polepszy, trzeba będzie podjąć ostateczną decyzję, by ukrócić mu cierpienie.
Poszliśmy przed szpitalem na krótki spacer. Zrobiliśmy parę "selfiaków" razem na pamiątkę. Nie wiem, o co prosić – czy o to, by jego stan zdrowia się polepszył, czy aby temu dać już ostateczny koniec.
Kocham tego psa, jak dziecko. Jest mi bliższy, niż niejeden członek mojej "człowieczej" rodziny. Jest wiernym, cudownym wspaniałym przyjacielem, z którym ciężko się żegnać. Nie mogę znieść uczucia, że coś go boli, że cierpi.
Jedno wiem na pewno – mam cholerne szczęście, że Bigos pojawił się w moim życiu. Jest ze mną od pierwszych szczenięcych tygodni i zawsze był kochany miłością totalną i bezwarunkową. Ja również jestem przez niego kochana miłością totalną i bezwarunkową. Ta myśl, że moje ręce zawsze przynosiły mu ulgę i komfort dodaje mi otuchy. Rozpaczam, że nie ma mnie przy nim teraz.
Czegokolwiek nie przyniesie rano – miłość zawsze pozostanie.