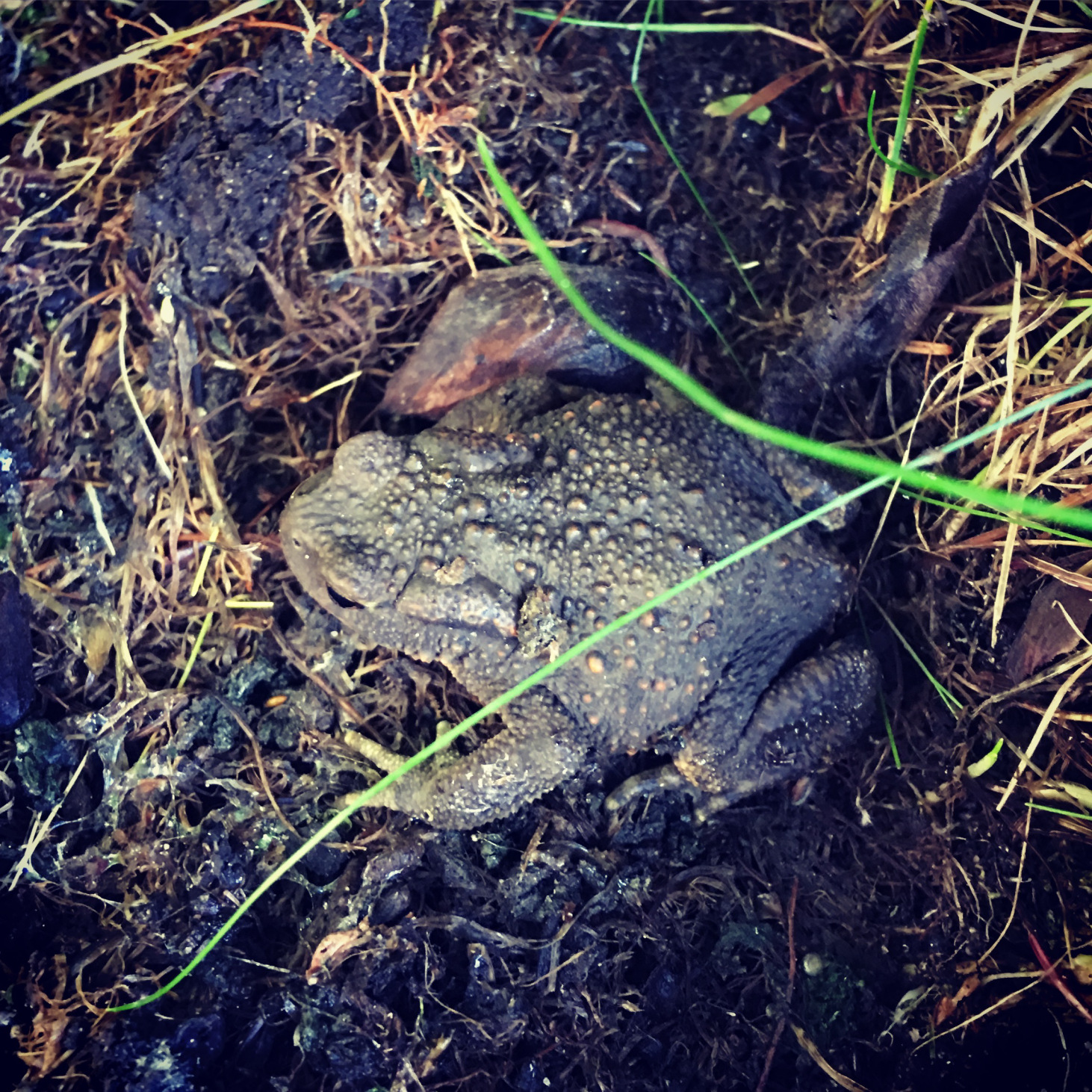 I spotted Makron this year in April and named him after the proud president of France. He is a proud toad and lives under the wooden pot in the front of the garden. Well, lived. Because he is gone. An idiotic idea came to my mind to create a really posh house for him, so I turn the pot upside down, made a beautiful place for him and he moved out. A massive mistake, lesson learned.
Makron, come back!!!!! I am sorry, you are my favourite toad and I promise I will never, ever, ever mess with your house again! 🙂
---
Makron został przeze mnie zauważony w ogródku w kwietniu tego roku. Mianowany na cześć prezydenta Francji (brak uzasadnienia, przepraszam…). Potem okazało się, że jest ropuchą lub ropuchem (założyłam, że to osobnik męski) i mieszka pod Wielką Drewnianą Donicą (to jest adres, tak na marginesie…). Bardzo przyjazny, dający się pogłaskać ropuch stał się moim ulubieńcem i codziennie odwiedzałam go pod jego stałym adresem, by sprawdzić, jak się miewa. Żył sobie spokojnie Pod Wielką Drewnianą Donicą aż do lipca. Wtedy przyszedł mi do głowy ten idiotyczny (powtarzam, zaiste idiotyczny!!!) pomysł, by zbudować mu dom, a raczej tak przekształcić doniczkę, żeby miał wygodnie. Zbudowałam mu więc dom.
Okazało się jednak, że naruszając jego środowisko zmieniłam to, co sobie upodobał i… Makron po prostu się wyprowadził. Mimo, że starałam się przywrócić doniczkę do jej pierwotnego stanu, nie zmieniło to faktu, że ropuch zniknął. Ślad po nim zaginął, i gdybym tylko rozmawiała w kosowym języku, to może Yellow powiedziałby mi, gdzie jest… 😉
Makron, wróć!!!! 🙁