Let me start by saying how I appreciate nature…Nature is beautiful. My garden, which I called  my "home zoo" as so many animals come and visit me each year, brings me great comfort. I try to give something back by creating shelters for vanishing species and simply feeding birds every single morning. My garden is a home of newts, birds, frogs, toads and many more. It is all supervised by a sweet border collie called Django, who is a massive source of love and joy every single day for me. This website is a mini – blog of mine – mainly with posts of everything that makes me and my family happy and healthy. You'll find here some recipes which promote healthy microbiom and some delicious stuff for your four legged friends too.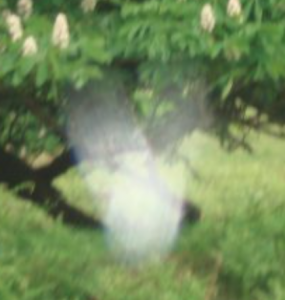 Here is a photograph my father took in 2016, on the day my beloved dog was cremated. We went for a long walk up Moel Famau in North Wales being totally devastated by our loss. All we could feel was sadness and pain. We could not believe what we saw when we looked at that photo later on. Two beams of light coming from the tree and a little white dog – like shape in the middle of it. Whether to believe it or not it's irrelevant. What was important, it brought us so much comfort. It made me smile. It was simply beautiful and it symbolises what this website is all about – the connection with nature, which can be as strong as you only allow it.
Thank you for stumbling upon this site and hope you enjoy it!
M.
---
Zacznę od tego, że szanuję i po prostu kocham naturę. Jest piękna. Mój domowy ogródek, którzy przez znajomych nazywany jest "domowym zoo", albowiem gości wiele gatunków fauny i flory, daje mi niesamowite poczucie komfortu. Zawsze staram się "dać coś w zamian" naturze, która tak hojnie obdarza tym wszystkim, co ma. Karmię więc ptaki co rano, daję schronienie żabom, traszkom, ropuchom, ptakom, wszystkiemu, co tego schronienia potrzebuje. Ogródek ma pod kontrolą pies pasterski wabiący się Django, który "odziedziczył" zabawki, klamoty i wszystko to, co w ogródku było "psie" po swoim poprzedniku, 14 letnim Bigosie. Bigos żył w zgodzie i pełnej harmonii ze wszystkimi zwierzętami ogródka (no, może z wyjątkiem kotów…) i ten bagaż – emocjonalno – wychowawczo – behawiorystyczny przejął po nim Django, który z kotami problemu nie ma, zaś szczerze nienawidzi much. Mucha to wróg.
Powyższa fotografia została zrobiona przez mojego tatę, dzień po tym, kiedy uśpiliśmy Bigosa, a w dzień jego kremacji. Będąc totalnie załamaną jego chorobą i sposobem w jaki odszedł, wybrałam się z rodziną na spacer, na szczyt góry Moel Famau. Po spacerze tato pokazał nam fotografię zrobioną w pochmurny wówczas dzień. Można wierzyć w znaki lub nie. To jest tu bez znaczenia. Co ważne to fakt, że zdjęcie przyniosło nam ogromny komfort. Sprawiło, że uśmiechnęliśmy się przez łzy, może pierwszy raz od wielu dni.
To zdjęcie symbolizuje to, co chcę zawrzeć na tej stronie – kontakt i więź z naturą, które są tak mocne, na ile tylko na to pozwolimy.
Miłego czytania!
M.